Description
These winch mounts are laser cut and shaped specifically to fit the Can-Am Maverick 1000. By utilizing state of the art computerized equipment a precise and custom fit is provided for your UTV. These mounts are also designed to utilize the strength of your UTV's frame to optimize winching efficiency.
Features:
Black industrial powder coat finish

Includes mounting hardware and detailed instructions

For use with the standard 4-bolt mounting pattern (3" x 4 7/8")
Applications:
2013-2017 Maverick 1000R
2016-2017 Maverick 1000R xc
2016-2017 Maverick 1000R Turbo
2014-2017 Maverick 1000R X mr
2013-2017 Maverick 1000R X rs
2014-2017 Maverick 1000R X xc
2014-2017 Maverick Max 1000R & Turbo **
2014-2017 Maverick Max X rs 1000R**
** may need to purchase an extended wiring kit to reach the battery.
PLEASE NOTE: will only work with stock bumpers
PLEASE NOTE: will NOT work with the Aluminum front bumper (includes all Maverick ds models and the 2016 Maverick X rs 1000R Turbo)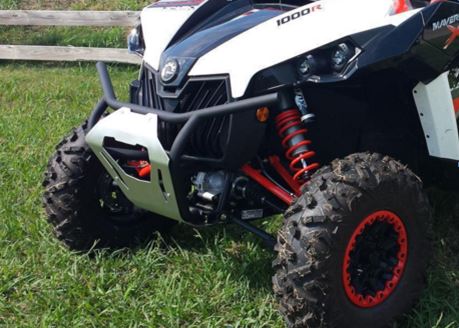 Aluminum Front Bumper NOT compatible with MA11947 Can-Am Maverick winch mounting plate
Add a winch to your machine by clicking the following link: Winches
Save
Save
View All
Close
Can-Am Maverick 1000 (13-17) Winch Mounting Plate